EAST 55 NEIGHBOURHOOD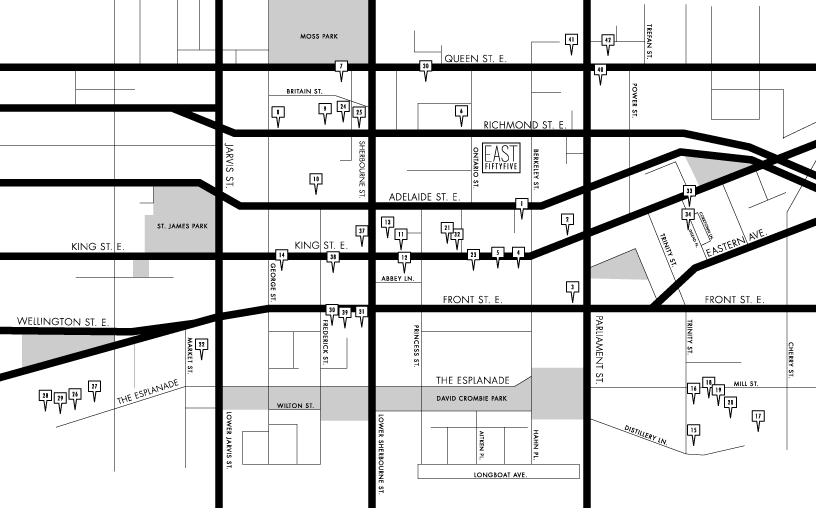 1
Alumnae Theatre Company

70 Berkeley Street


alumnaetheatre.com


The oldest theatre society in Toronto still in operation. It was founded in 1919 by female graduates of the University of Toronto who wanted to continue to participate in semi professional theatre after graduation.
2
Bijan Interiors

326 King Street East


bijaninteriors.ca


Bijan Interiors is your modern furniture store in the Toronto area. Their 318 King Street East store carries only the highest quality furniture from the best brands.
3
Downtown Porsche

68 Parliament Street


downtown.porschedealer.com


Utterly unlike any vehicle you'll ever drive. And they are like no other dealership you'll ever drive into. When it comes to the finest in workmanship, technology and exclusivity, you'll want to come to Downtown Porsche.
4
Ital Interiors

359 King Street East


italinteriors.ca


Italinteriors represents some of the most important manufacturers in contemporary Italian furniture.
5
Rooster Coffee

343 King Street East


roostercoffeehouse.com


Arty cafe with industrial-chic stylings & a menu of Italian coffees, light lunches & pastries.
6
Mengrai Gourmet Thai

82 Ontario Street


mengraithai.com


Comfortable brick-lined space with a menu of Northern Thai dishes, plus cooking classes.
7
A Dog's Life

215 Queen Street East


adogslifetoronto.com


A Dog's Life provides pet sitting, dog daycare, dog walking, pet shipping, pet taxi, and pet care services in the Greater Toronto Area.
8
The George Street Diner

129 George Street


thegeorgestreetdiner.blogspot.ca


Comfort food is on the menu at this classic diner, complete with red booths & counter seating.
9
Cafe 260

260 Richmond Street East


cafe260.com


Cozy, industrial cafe with house blends of fair trade organic coffees, loose leaf teas & nibbles.
10
George Brown College – St James Campus

300 Adelaide Street East


www.georgebrown.ca


George Brown College is a public, fully accredited college of applied arts and technology with three full campuses in downtown Toronto.
11
Betty's

240 King Street East


bettysonking.com


Laid-back pub with an extensive selection of draft beer serving a full menu of pub grub.
12
Urban Barn

275 King Street East


urbanbarn.com


A contemporary furniture store that offers high quality furniture, home décor & accessories.
13
Pacific Junction Hotel

234 King Street East


pacificjunctionhotel.com


Tacos, sandwiches & cocktails offered in a hip hangout with quirky, hodgepodge décor.
14
Petite Dejeuner

191 King Street East


petitdejeuner.ca


A brick-lined, family run bistro specializing in Belgian-Canadian comfort food.
15
Balzac's Coffee

1 Trinity Street


www.balzacs.com


Balzac's Coffee Roasters micro-roasts the finest selection of Arabica beans in single 20 pound batches at their roastery.
16
Brick Street Bakery

27 Trinity Street


brickstreetbakery.com


The Brick Street Bakery makes amazing breads, sandwiches, tarts and more, all prepared with all-natural ingredients.
17
Cluny Bistro

35 Tank House Lane


clunybistro.com


Modern French cuisine in a casual bistro setting located in the Distillery District.
18
Tappo Restaurant

2 Trinity Street


tappo.ca


Upscale-casual Italian eatery in a landmark distillery building with high ceilings & stone walls.
19
El Catrin

18 Tank House Lane


elcatrin.ca


Creative Mexican tapas, an ample tequila & mezcal list, plus outdoor seating & a colourful mural.
20
Mill Street Pub

21 Tank House Lane


millstreetbrewpub.ca


Airy brewpub with several beers that are only available on-site plus bar food classics.
21
Mangia and Bevi

260 King Street East


mbresto.com


Laid-back stop for Neapolitan-style pies, pastas & other Italian fare, plus beer, wine & cocktails.
22
St. Lawrence Market

92 Front Street East


stlawrencemarket.com


Named the world's best food market by National Geographic in April 2012. St. Lawrence Market hosts weekly farmer's markets, antique markets, restaurants, and a variety of areas to shop for food.
23
Sky Blue Sky Sandwiches

333 King Street East


sbssandwiches.com


Funky deli offering housemade bread & a menu that pays tribute to the band Wilco.
24
The Richmond Rogue

284 Richmond Street East


therichmondrogue.com


Warm, comfy venue with dim lighting, serving cold brews, wines & cocktails.
25
Fusaro's Italian Kitchen

294 Richmond Street East


fusaros.com


A Destination. For over 15 years, they've been bringing the same wonderful food they grew up on.
26
Origin

107 King Street East


origintoronto.com


Small plates of eclectic cuisine, including a raw bar, in an urban-chic space with an open kitchen.
27
South St. Burger

260 King Street East


southstburger.com


Serves gourmet burgers in a warm, loft-style, urban and contemporary environment.
28
Bolets Burrito

134 Lower Sherbourne Street


Nothing


Casual, welcoming joint serves up jumbo burritos stuffed with eclectic combinations.
29
Young People's Theatre

165 Front Street East


youngpeoplestheatre.ca


The largest, professional theatre for young audiences company in Canada.
30
Morning Glory

457 King Street East


morningglorycafe.ca


This cozy breakfast and lunch spot has captured Corktown's hearts… and stomachs. The staff takes pride in serving locally-grown ingredients to create a simple but irresistibly addictive meal experience – all made fresh.
31
Gilead Café

4 Gilead Place


jamiekennedy.ca


Jamie Kennedy Kitchens headquarters, where you can enjoy their signature dishes using local ingredients.
32
Bier Market

58 The Esplanade


thebiermarkt.com


With more than 150 Biers from over 30 countries, their Bier curators will take you on a guided journey ensuring each dish reflects and harmonizes with the Brewers' work of art.
33
Fionn MacCool's

70 The Esplanade


primepubs.com


Fionn MacCool's combines the vibe of an upscale pub with the comfort found in a casual dining experience.
34
The Keg Steakhouse and Bar

26 The Esplanade


kegsteakhouse.com


The Keg is a Canadian chain of steakhouse restaurants and bars.
35
The Old Spaghetti Factory

54 The Esplanade


oldspaghettifactory.ne


Family-friendly eatery featuring traditional entrees amid turn-of-the-century décor.
36
Tilted Kilt

42 The Esplanade


tiltedkilt.com


A contemporary, celtic-themed sports Pub staffed with kilt-clad waitresses.
37
EQ3

222 King Street East


eq3.com


EQ3 offers Canadian made, modern furniture for urban living. Create a stylish space with home accessories from EQ3.
38
The Patrician Grill

219 King Street East


patriciangrill.com


A family owned restaurant since 1967 with cozy booths and long 50s style countertop which overlooks the kitchen has been feeding the business crowd, George Brown students and more recently the local residents.
39
St. Lawrence Library

171 Front Street East


torontopubliclibrary.ca


Get books, videos, music, programs, databases and more, online and in branches.
40
Shoppers Drug Mart

351 Queen Street East


shoppersdrugmart.ca


Canada's largest retailers offering products that include beauty, pharmacy, health, and food.
41
Figgs Breakfast & Lunch

344 Queen Street East


figsbreakfastlunch.com


Renowned eggs Benedict, plus omelets & salads, are on the menu at this welcoming restaurant.
42
Magic Oven

360 Queen Street East


magicoven.com


Home of Toronto's award winning pizza! The Magic Oven is fully licensed, offering a selection of specialty wines and beer with organic options.